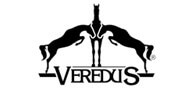 CARBON GEL VENTO COLORED BOOTS FRONT
Product code - CGVCF1LB3
Promo - Colored
Description
High-tech boots from Veredus, which are now available in four colour versions. A well-known, technologically advanced model of boots, enriched with tasteful, colourful inserts.
These are the first boots to protects your horse's cannon bones and tendons. In order to avoid harmful overheat, the heat produced by the horse's leg is transferred through a layer of microperforated neoprene and is carried out by a material of a 3D channel material. Cool, fresh air is sucked up through an inlet due to the horse's movements and it directs the heat upwards, to the outlet. Ventilation is conducted vertically (from the inside to the outside) and horizontally (from the bottom to the top).
The highest tendon protection is provided by a carbon insert, combined with shock-absorbing gel layer.
Elastic straps attached on hooks as fastening allow for quick and convenient putting them on and taking them off.
The boots made of the highest-quality materials will be perfect for trainings and competitions.
Packed per pair