X D2K DRESSAGE SADDLE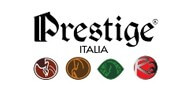 One-flap version of the X D2 model is a younger brother of the legendary D1 model and it introduces a new deeper seat, which allows the rider to feel even closer contact with his or her horse without restricting their movements. The basis of the seat in the X D2 model is noticeably wider than in an ordinary dressage saddle. This saddle is built on a patented by Prestige Italia innovative X tree, which enriched with an elastic membrane cause the seat to form its shape in accordance with the rider's coccyx, at the same time absorbing rapid movements of the horse.
This saddle is equipped with anatomically shaped panels that guarantee maximal range of movement for muscles of the horse's back in the trapezius area. In case of the X D2 saddle you can choose from three available sizes of the saddle bow:
S - for horses with a span up to 33,
M - for horses with a span up to 35,
L - for horses with a span larger than 35.
Accessories
Related articles on blog