X-PRESTIGE HELEN D DRESSAGE SADDLE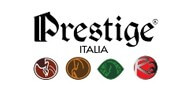 Prestige X-Helen Saddle has been designed in cooperation with the superb German dressage competitor, Helen Langehanenberg.
New saddle tree is deeper than in any produced by Prestige saddle. Its use allows you to achieve the effect of a very deep seat, while not limiting range of motion of the horse. Saddle has also a flexible membranes, which make the new product extremely soft. Cushions are padded with leather, made in a special structure arranged on the pattern of honeycombs filled with a light, spongy material. These cushions are made in the anatomical shape for providing maximum freedom of movement of muscles within the withers.
The saddle is available in three sizes of the seat 16 ', 17' and 18 'and with a gullet size from 29 to 37
Accessories
Related articles on blog
No related articles on blog