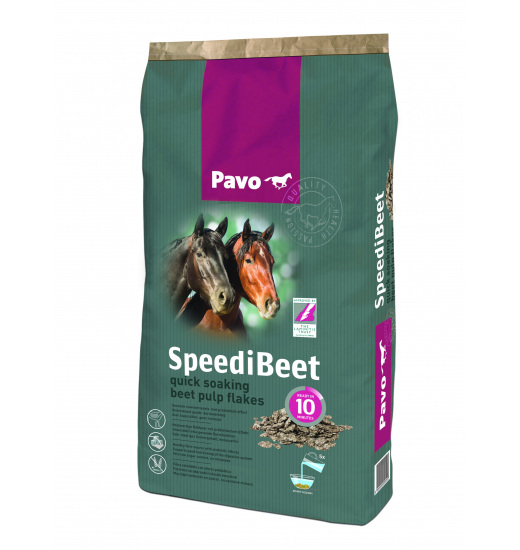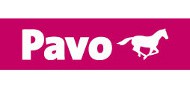 SPEEDIBEET BEET PULP FLAKES
Description
SpeediBeet feed was made of non-molassed beet pulp. SpeediBeet will save you time - the flakes are ready in 10 minutes from adding water, and what is more they contain the least amount of sugar among products available on the market. The technology applied by Pavo company allows to not use molasses as a binding agent for the pulp to form pellets.

SpeediBeet is characteristic for its high content of fiber, mostly pectins - they are easier to digest for a horse than fibers from other feeds. SpeediBeet pulp slowly release energy to the blood stream. This feed will be suitable for horses who have metabolic issues or for horses with laminitis. An additional advantage of SpeediBeet feed are prebiotic properties of beet fibers that stimulate growth of intestinal bacterial flora.

Pavo SpeediBeet feed will be perfect for all types of horses. It can be used as a supplement improving shape of underweight horses, elder horses, injured or hyperactive horses.

Note!

Pavo SpeediBeet feed is not enriched with vitamins and minerals, which means it is a base feed, we highly recommend administering mineral and vitamin supplements (e.g. Pavo Vital Complete).
SpeediBeet feed increases in volume while adding water. Beet pulp has to be wet at least 10 minutes before given to the horse.

Dosage
As a dietary supplement: 25 g / 100kg body weight
As a diet part: 30-50 g / 100 kg body weight
As a feed substiture (e.g. for seniors): 400 g / 100 kg body weight
Dosage should be adjusted to the amount of time spent on a pasture, kind of work and quality of volume feed
The given amounts are for dry beet pulp Pavo SpeediBeet, before adding water
Pavo SpeediBeet should be mixed with water in 1:3 ratio and given at around 10 minutes to completely soak (until the pulp "swells" and is soft)
One Pavo cup contains 0,7 kg of the product

Contains: Non-mollassed beet pulp flakes
Guaranteed analysis
| | |
| --- | --- |
| Energy (EWpa) | 0,83 jedn./kg |
| Energy (DE) | 12,0 MJ/kg |
| Energy (ME) | 9,9 MJ/kg |
| Dig. crude protein | 4,2 % |
| Crude protein | 10,0 % |
| Crude fat | 0,7 % |
| Crude minerals | 16,0 % |
| Popiół surowy | 9,0 % |
| Sugar | 5,0 % |
| Stratch | 0,0 % |
| Lysine | 3,2 g |
| Methionine | 1,5 g |
Minerals
| | |
| --- | --- |
| Calcium | 0,7 % |
| Phosphorus | 0,1 % |
| Sodium | 0,2 % |
| Potassium | 1,1 % |
| Magnesium | 0,3 % |


Feeding advice
| | | | |
| --- | --- | --- | --- |
| Bodyweight adult horse | 200 kg | 400 kg | 600 kg |
| | kg / day | kg / day | kg / day |
| as healthy addition | 0,1 kg | 0,2 kg | 0,3 kg |
| horse with a condition residue or dental problems | 0,8 kg | 1,6 kg | 2,4 kg |