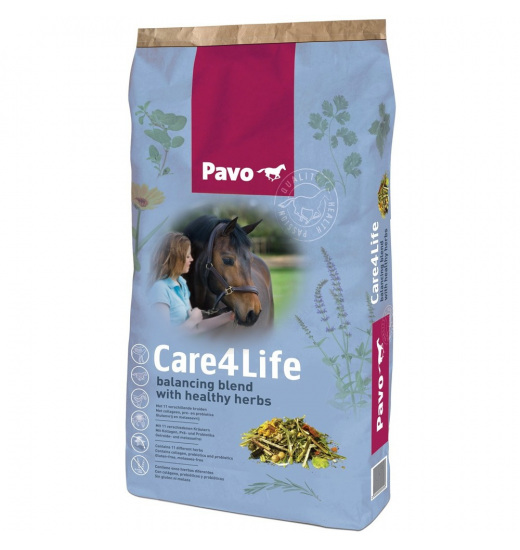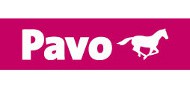 CARE4LIFE FEED
Description
Care4Life is a very rich in nutrients horse feed. It contains e.g.: fiber, omega-3 and omega-6 fatty acids, prebiotics, composition of 11 herbs, but also minerals and vitamins.

However, Care4Life feed does not contain unnecessary supplements that could harm the horse's digestive system. This mixture does not contain grains, nor by-products of their milling, it also does not contain molasses, gluten, oats, and the starch content is only 9%.

All that makes Pavo Care4Life a perfect feed for horses with metabolic issues (such as EMS, cushing, laminitis), who require sugar-deficient diet, but also for horses after injuries and ailments.
Contains: lucerne (alfalfa), apple pulp, linseed, toasted soybean flakes, herbal nutrient combination, sunflower seed hulls, sun flower seed, extracted soybean oil, peas flakes, carrot flakes, chicory pulp, pre-and probiotics, vitamin - minerals
Average dosage: 170 g for every 100 kg body weight
Daily dosage for a horse weighing 600 kg is just 1 kg
Dosage should be adjusted to the time spent on a pasture and performed work
One cup of Pavo feed contains 0,6 kg of the product
Guaranteed analysis
| | |
| --- | --- |
| Energy (EWpa) | 0,80 Units/kg |
| Energy (DE) | 11,5 MJ/kg |
| Energy (ME) | 9,6 MJ/kg |
| Dig. crude protein | 11 % |
| Crude protein | 14 % |
| Crude fat | 6,5 % |
| Crude fibre | 24 % |
| Crude minerals | 10 % |
| Sugar | 4,7 % |
| Starch | 4,7 % |
| Lysine | 6 g |
| Methionine | 1,9 g |
| Omega-3 | 12 g |
| Omega-6 | 20 g |
Minerals and trace elements (per kg)
| | |
| --- | --- |
| Calcium | 1,3 % |
| Phosphorus | 0,4 % |
| Sodium | 1 % |
| Potassium | 1,4 % |
| Magnesium | 0,6 % |
| Copper | 80 mg |
| Iron | 150 mg |
| Zinc | 250 mg |
| Manganese | 150 mg |
| Selenium | 0,9 mg |
| Iodine | 1,5 mg |
| Cobalt | 1,0 mg |
Vitamin levels (per kg)
| | |
| --- | --- |
| Vitamin A | 32.000 IE |
| Vitamin D3 | 3.600 IE |
| Vitamin E | 600 IE |
| Vitamin B1 | 50 mg |
| Vitamin B2 | 40 mg |
| Vitamin B6 | 20 mg |
| Vitamin B12 | 500 mcg |
| Vitamin C | 500 mg |
| Choline | 500 mg |
| D-Biotin | 500 mcg |
| Folic acid | 15 mg |
| Vitamin K3 | 6 mg |
Feeding advice kg/day
| | | | |
| --- | --- | --- | --- |
| Bodyweight adult horse | 200 kg | 400 kg | 600 kg |
| | kg / day | kg / day | kg / day |
| As a complete feed | 0,3 kg | 0,7 kg | 1,0 kg |