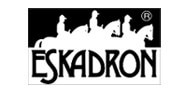 HEADCOLLAR PIN BUCKLE GLOSSY R.E.S.R.
Product code - 410066 834
Collection - 2019
Subcollection - Ride.Eat.Sleep.Repeat
Description
Impressive headcollar made of durable shiny material. It is softly lined on the noseband and occiput, which prevents chafing. This headcollar is elegant and diligently trimmed, it has silver fittings. Adjustable in two places.
The headcollar is decorated with an Eskadron inscription and a silicone logo patch.