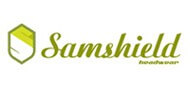 SHADOWMATT HELMET / ALCANTARA TOP / SHIELD SWAROVSKI / 255 SWAROVSKI / SILVER CHROME / NAVY
Sex - Unisex
Collection - Shadowmatt
Shell - shadowmatt
Top - alcantara
Trim - chrome
Swarovski crystals on trim - 255 Swarovski

Description
Exceptionally light and durable helmet from the classic Samshield collection. It is made of scratch-resistant navy blue and matte polycarbonate. The inner layer is made of polystyrene of varying thickness, which provides better distribution of energy produced in case of an impact. Innovative system of ventilation carries heat excess from the helmet's shell. The inside is lined with a special liner attached on clips, the liner is made of a special "shape memory" sponge. Its simple detachment allows to keep it properly clean.
Inspired by the motorcycle industry technology, this helmet perfectly protects the most vulnerable and delicate parts of head from injuries.
Application of the highest-quality materials and hand-made trim make this helmet an exclusive product, designed for riders who value comfort and safety above all.
The helmet's top is made of soft and durable alcantara. The trim is decorated with 5 Swarovski's crystals and like its disc - it is chromed. The crystals are also on the splice of the shell and top and on the back, forming an impressive blue and white logo.
This very elegant helmet will be perfect for both competition and everyday trainings. For maximal protection it meets the most important safety standards and certificates:
-CE VG1 01.040 2014-12
-SEI ASTM F1163-15
Time left for this offer: