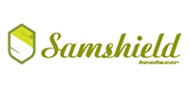 SHIELD'RUP STIRRUPS
Description
Samshield stirrups made of the most innovative materials that are durable and elegant. Its specially designed shape allows for easy and quick placement of the feet. They are safe and light. Their steel non-slip foot provides stabilization and stable support.

Shield'Rup

Out of their passion for technology and innovation, wanting to deliver the best product possible, Samshield design a stirrup that brings revolution in safety, performance, design, comfort, and technicality: Shield'Rup.

The aim of creating Shield'Rup was to deliver a product that would be just as safe as it would be technical, comfortable, and effective. After many years of testing and researching, Shield'Rup was created. It is a combination of all these requirements packed into one innovative design.

Comfort and performance

Hole for leather straps: easy attachment and detachment of the stirrup

Aeronautic aluminum and steel insert: excellent resistance even when the branch is open

Branch opens up to 180°: the lateral branch steadily comes back to its original position after being opened

Two kinds of tread: Shield'Rup is available with two different treads: a standard non-slip grip tread, or an extra non-slip grip (with spikes). They are interchangeable.

Inclined tread: it properly positions the rider's foot and heel in order to provide the highest possible stabilization and support

Elastomer seal under tread: perfect absorption of shocks for the rider's highest comfort, perfect balance and joints' protection

Technology and security

The lateral branch of Shield'Rup opens up under pressure in case of the rider's falling off the horse's back. The cable and spring system allows the branch to open up to 180° and then steadily come back to its original position. The stirrup is made of aeronautic aluminum and steel insert. Shield'Rup is exceptionally durable, even when the branch is open.

Available in 6 colors: chrome, black chrome, gold chrome, brushed aluminum, matte black, and pink gold.