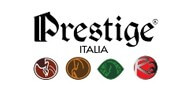 STEPHI 2.0 A33 STIRRUPS
Description
New model of the bestselling Stephi stirrups, which was made wholly from high-class stainless aluminum alloy of 6000 type that is used to construct car bodies and airplanes. Stephi 2.0 are deprived of sharp edges on the sides in order to increase safety of their usage. This model of stirrup is exceptionally resistant to dampness, abrasion, and mechanical failures.
The side parts of the stirrups have slightly curved edges, thanks to which you don't have to worry about damaging the saddle. A special insert was designed in such a way that it provides a perfect grip during riding without the effect of abrading your shoes, and at the same time it allows for quick release of the shoe in case the horse falls. This effect was attained due to application of rotation on the insert.
Surface of the insert dedicated on the sole is made from the same aluminum alloy which was used to produce the other elements of the stirrup, although it's coarse which provides grip. The holes that guarantee the grip are arranged on the part which is at an angle, and that provides contact with the sole even during rapid movements.
Stephi 2.0 stirrups are available in two colours: black and silver.