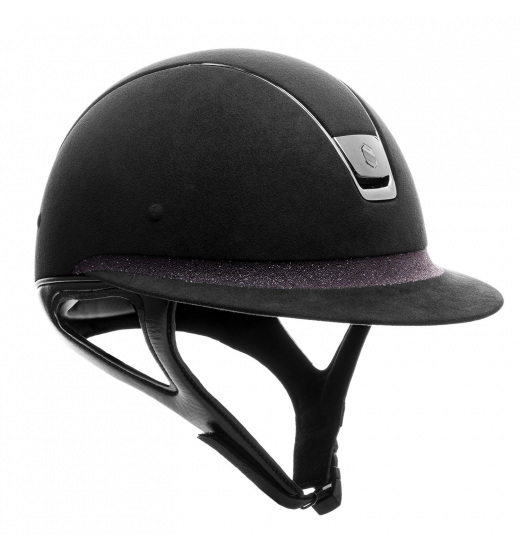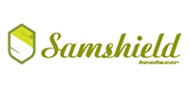 MISS SHIELD PREMIUM HELMET / ALCANTARA TOP / CRYSTAL ANTIQUE PINK BAND / SILVER CHROM / BLACK
Sex - Woman
Collection - Premium

Description
Samshield helmets are known for their elegance. The latest proposition from this producer is dedicated for women. Miss Shield is characterised with its longer peak, which reminds a ladies' hat. When it comes to the technical properties and general outlook, it does not differ from its basic (Premium) version. The helmet's shell was made of durable polycarbonate, which was covered with black Alcantara. Top of the helmet is also covered with this material. Rim above the peak is trimmed with little Swarovski crystals in dark shade of pink. Silver chrome shield and trim perfectly match the rest of the helmet. A huge advantage of this producer's helmets is a very good ventialtion, which was discreetely composed into the helmet's shell. Cool air enters the helmet through an inlet below the shield and exits through small outlets at the back.
The producer cares about the quality of the products. Each helmet is trimmed by hand and the used materials are always of the highest quality. Due to such dilligence, this helmet is dedicated for people who value quality and safety above all other things. This helmet provides full protection of the most delicate parts of the rider's head.
Samshield helmets consist of shell and interchangeable spongy liners. Each helmet appears in three sizes of the shell: S, M and L. In the S size you can use liners from 51 to 55 cm, M - from 55 to 58 cm, L - from 58 to 61 cm. An indisputable advantage of such solution is the fact that you can wash the liners in a washing machine. Also, you can easily change the helmet's size within the range of the liners' sizes.
This helmet meets the latest safety standards:
CE VG1 01.040 2014-12
SEI ASTM F1163-15