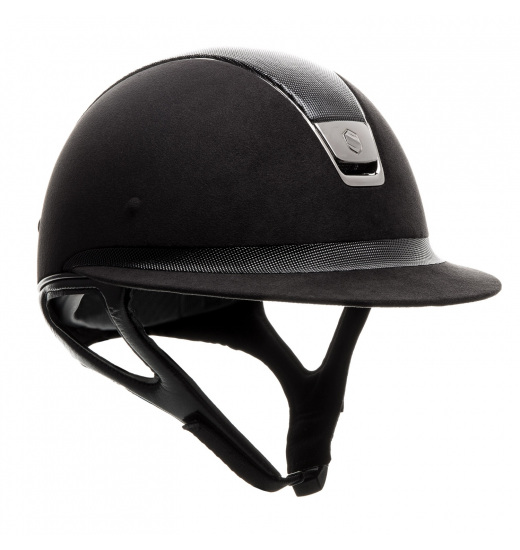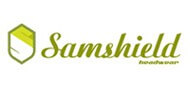 MISS SHIELD PREMIUM HELMET / SHIMMER TOP / SHIMMER BAND / SILVER CHROM / BLACK
Sex - Woman
Collection - Premium
Shell - miss shield alcantara
Top - shimmer
Trim - chrome

Description
Samshield Miss Shield is a novelty on the market of equestrian helmets. It differs from its basic version with a longer peak, that reminds a ladies' hat. The helmet looks exceptionally elegant. Technically, the helmet is no different that its basic model. It is made of durable polycarbonate, which is covered with black Alcantara. Top of the helmet and the rim above the peak are covered with black Shimmer material, which is made of varnished and pressed Italian leather. The shield and trim of the helmet are made in silver chrome.
Samshiled helmets have a very effective ventilation system, which is at the same time discreet. Cool air enters the shell through an inlet below the shield. It goes around the rider's head, and the excess of heat goes out through an outlet at the back of the helmet.
They consist of shell and spongy liners. Each helmet appears in three sizes of the shell: S, M and L. To each shell you can match a liner: S - from 51 to 55 cm, M - from 55 to 58 cm, L - from 58 to 61 cm. The inserts allow you to keep the helmet clean, as you can detach them and wash in 30*C. Just as easily it is possible to change the helmet's size within the range of matching liners.
All Samshield helmets are trimmed by hand and material of the highest quality are used in their production. They provide a full protection for the rider's delicate head parts.
The helmet meets all the latest safety standards:
CE VG1 01.040 2014-12
SEI ASTM F1163-15