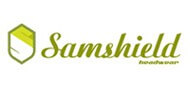 XC BLACK HELMET
Sex - Unisex
Collection - Classic

Description
MATERIALS FOR OPTIMAL SAFETY
The XC helmet was designed to meet active and passive safety requirements for extreme disciplines which are cross-country and racing. These requirements being more important than for dressage and jumping, a specific certification is required to participate in international competitions for these disciplines: PAS015 standard.
This standard requires to increase the thicknesses of the inner and outer shells, and necessarily creates more weight.
Therefore, for the XC helmet, Samshield decided to choose a pure carbon fiber external shell, a composite material providing an unbeatable strength / weight ratio.
The XC helmet is also certified to CE EN1384 (Europe), BS EN 1384:2012 (United Kingdom) and SEI/ASTM F1163 (United States) Standards.
The inner shell is made of polystyrene with variable density providing a better dissipation of the energy produced upon impact.
STABILITY
The internal comfort foam (liner), "shape memory"-kind, ensuring a constant thickness over the years of use and the semi-rigid jugular cancel all risks of tipping the helmet in case of a violent movement.
This internal comfort foam is removable thanks to a much stronger clip system than the scratch/Velcro system.
It can therefore be washed (max. 30°C) at will in order to constantly be able to wear a clean and fragrant helmet.
PERFECT SIZE ADJUSTMENT FOR UNMATCHED COMFORT
A thorough anthropomorphic study led to design an inner-shell form generating an unmatched comfort fitting.
2 shell sizes are available (M and L).
Each shell can accommodate 5 to 6 inner foams (liner) of different sizes in order to obtain a perfect adjustment to the rider's head.
The size grid is available from 53 to 61.
With this system, it is also possible to follow the growth of a young rider.