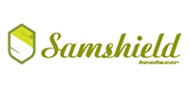 SHIMMER TOP / BLACK TRIM / BLACK CHROM / NAVY SHADOWMATT HELMET
Sex - Unisex
Collection - Shadowmatt
Shell - shadowmatt
Top - shimmer
Trim - chrome

Description
Shadowmatt helmets series is a part of the classic Samshield collection. Shell of this particular helmet is made from navy blue, scratch-resistant polycarbonate. Top of this helmet is covered with Shimmer material, which was made from polished and then pressed Italian leather. Shield and trim are in black chrome colour. The inner side of the helmet is covered with polystyrene of varying thickness, which absorbs the energy produced during impact and effectively distributes it.
Air inlet is under the shield, and air outlet is on the back of the shell. The whole cooling system is very aesthetic and efficient. It perfectly carries the heat excess to the outside, even on the hottest of days. That makes this helmet comfortable in every weather conditions. The helmet is also exceptionally comfortable due to its liners made of special sponge attached on studs to the inside of the helmet. The memory shape sponge adjust to the rider's head shape. The liners can be washed in 30 degrees Celsius, which allows to keep them clean.
This helmet is constructed in such a way that it provides protection of the most delicate head parts.
Materials of the highest quality were used in production of this helmet, and each of its elements was trimmed by hand. That guarantees that this product is solid and exclusive.
It can be used for competitions of all kinds, because it meets all the currently effective safety standards for equestrian helmets. Remember also to always use a helmet during everyday trainings.
Standards and certificates that Samshield helmets meet:
CE VG1 01.040 2014-12
SEI ASTM F1163-15