MISS SHIELD SHADOWMATT / SILVER CHROME / BLACK HELMET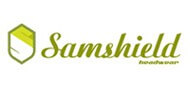 Sex - Woman
Collection - Shadowmatt
Shell - miss shield shadowmatt
Top - shadowmatt
Trim - chrome

Inspired by a classic women's hat, very elegant, light and durable helmet from the latest Samshield collection. Extended peak is an innovation, which refers to the so-called "brim."
With its elegant look, it maintains all the properties and advantages of classic helmets from this company.
It is made of matt and scratch-resistant polycarbonate in black colour. Its inner layer is made of polystyrene of varying thickness, which provides better distribution of energy produced during impact.
Innovative and very aesthetic ventilatory system perfectly carries heat excess to the outside of the helmet's shell. Its inside is lined with an attachable on clips insert made of special sponge, which adjusts to the rider's head shape. The liner is easy to detach, which allows to keep it clean.
This helmet perfectly protects the most delicate parts of the rider's head in case of impact. Materials that were used in its production, combined with hand-made trimming make this product an exclusive one, designed for riders, who value comfort and safety above all.
The helmet is decorated with a chromed silver trim and shield.
This elegant helmet of an exquisite design will present itself excellently during everyday trainings and competitions.
The helmet meets all the most important standards and safety certificates:
-CE VG1 01.040 2014-12
-SEI ASTM F1163-15